In this post today, I discuss the options when it comes to how to repair cracked polycarbonate luggage.
Many of us will have been in this situation. The luggage finally comes around on the carousel at baggage reclaim. You grab it and put it on your trolley…only to see the crack in your luggage! Disaster…your brand-new suitcase ruined.
Assess the damage – Hard suitcase crack?
The first thing you need to do is to look at the damage and the shape of it. If it is a crack, this is better than if there is a hole in the suitcase.
A crack is relatively simple to fix and any bond you put in there should hold strong. A hole in your luggage is a bigger challenge since the larger surface area means the fix has less strength.
Before you start any fix
If your suitcase was damaged in transit, your first point of call should be to contact the airline and let them know the damage that they have caused.
You may be able to be compensated for the damage which means a simple replacement.
This is the best outcome since any fix still weakens the overall suitcase strength.
Therefore, it is always best to take photos of your luggage before you travel…and obviously any damage.
Another option is to contact the suitcase manufacturer. They may actually cover the damage if they have claimed that it is resistant to something. It's definitely worth a call to their customer support.
Have you also considered your travel insurance? Depending on your policy, it may be covered.
How to temporarily fix your suitcase
If you are in transit, your options are limited. You may not be able to leave it for 24 hours depending on the repair technique that I will discuss below. You may need a simple yet effective technique to get you through.
The best method I have found yet is to simply use duct tape. This tape is strong and water resistant. Depending on the damage, it will provide a temporary fix in most situations.
The best method is to use the duct tape on both sides. So, unzip the inner lining of the suitcase and tape it from the inside. You then need to repair it from the outside using the same technique.
This solution is a temporary fix…it may look ugly but the aim is to get your luggage home.
How to repair a cracked hard suitcase
Essentially you have three options;
Duct tape
Sugru
Fibreglass resin
Duct tape to repair your suitcase
This is the simplest fix and it actually might be the best fix depending on how you use your suitcase. If you aren't concerned to much about the visuals and you rarely fly, then this should be more than good enough.
Sugru suitcase repair
This is another option that provides a neater fix. This method really depends on the damage. If the damage is a wide surface area, then this may not be ideal. Sugru hardens as it dries and creates a seal where the damage once was.
Simply fill in the hole from the inside and level it from the outside. It will take some time to cure but it will seal it if it is done properly.
The great thing about it is that is available in lots of colors, so you can make the repair a little more discrete.
---
Fiberglass resin suitcase repair
This solution is the best solution because it provides a permanent repair that is waterproof, flexible and durable. It is the best repair you can do as it is also suitable for more serious damage.
The method is outlined in this great video below but you can see that the final result is very clean. It does obviously cost some money to do but the results are totally worth it.
---
How to strengthen your suitcase before you travel
Whenever I get a new suitcase, I always go through the following process. Regardless of the manufacturers claims of strength and durability, there is always a risk of damage.
I therefore like to strengthen the suitcase…just in case. The method is simple…duct tape.
Unzip the inner lining of the luggage and reinforce the inside using vertical strips. The corners I pay special attention too. I place a few strips of duct tape in all the corners.
You will definitely be able to feel the difference in the luggage and the great thing is that it adds very little to the weight of it.
Summary – How to repair cracked polycarbonate luggage
I hope you found this article on how to repair cracked polycarbonate luggage useful. Remember that you may be able to get a professional repair if the liability for the damage lies elsewhere. If you have to do it yourself, I would definitely recommend you the fibreglass option for the best results. If you found this article useful, please consider sharing it on your social media.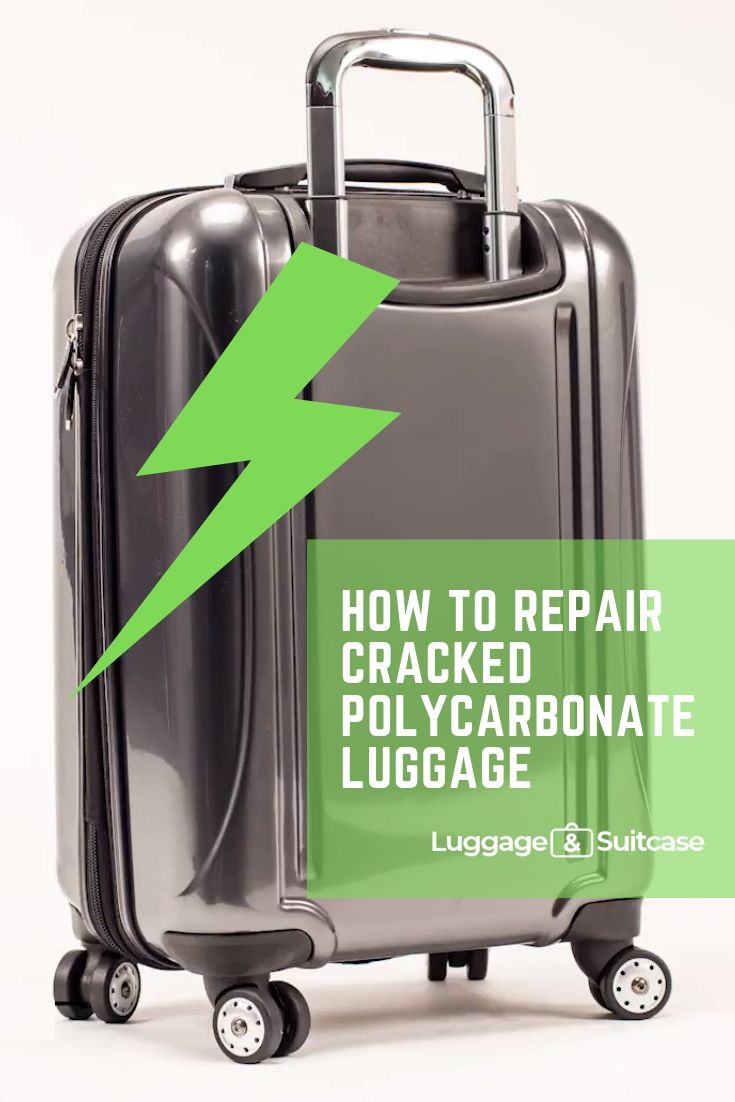 Since you are here…
Please can you share this image on your social media…it only takes a second and it means a lot to us here.
Thank you so much !
---
You may also be interested in reading…
How to protect luggage from damage – 11 things you can do
Best hardside luggage material
How to fix luggage handle that is stuck
---
Citation
Video